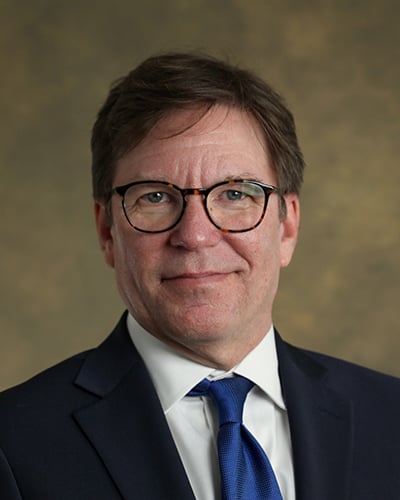 PRACTICE AREAS:
Premise Liability
Faulty Products
Medical Malpractice
General Counsel and Consulting
DOUG FIELDS
Senior Attorney | Litigation Practice Director
Doug is a proven, seasoned trial attorney with over 32 years of litigation experience in State and Federal courts. He is well-versed at operating in dynamic atmospheres and is able to quickly adapt to the ever-changing demands of today's legal environment. He has broad experience in developing, settling, mediating, and trying hundreds of cases in a wide array of practice areas in State and Federal Courts throughout the U.S.
In addition to his comprehensive litigation practice, Doug has served as outside General Counsel, Consultant, Trainer/Coach/Mentor, Policy Writer, CLE presenter and academic teacher. Doug's extensive and thorough knowledge of the law and navigating litigation, allows him to provide his clients with a high standard of legal care on a more personal level. Doug's unique approach to the practice of law is one of being casual, accessible to all walks of life, and to help those in need find a mindful, calm approach to problem solving. This approach to clients, and even adversaries, has supported Doug's success in diffusing tense situations by offering a more comfortable space for litigants. Clients can expect passion and advocacy blended together in a measured presentation. Doug believes that compassionate, genuine communication is the foundation of a sound attorney-client relationship.

At Whitcomb, Selinsky PC, Doug manages all litigation and works collaboratively with its entire team of attorneys.

EXPERIENCE
Doug grew up in Florida the child of teachers and coaches. He became a junior circuit competitive tennis player, was nationally ranked, and earned a scholarship to play in college. He serves as a resident teaching pro on occasion at resorts throughout the Caribbean.
At age 50, after practicing yoga on and off for decades, Doug embarked upon a year-long yoga teacher training and became a certified yoga teacher, leading workshops geared towards demystifying yoga for men, and teaching classes several times per week. Doug's yoga and meditation practice has been powerfully impactful on his professional approach as a compassionate, peaceful but fearless advocate for his clients and, as importantly, as a spiritual human.
Doug lives in Denver and is the proud father of three uniquely talented and beautiful adult children. He lived in five different Southern states before transplanting to Colorado to embrace the Western beauty. Doug loves mountain biking, skiing, hiking, camping, and adventuring while soaking up the more than 300 days of Colorado sunshine.
PROFESSIONAL RECOGNITION AND PARTICIPATION
Doug's proudest moments have come doing pro bono work for individuals in homeless and underserved communities, and amongst the immigrant population. Doug founded a legal clinic at Highlands United Methodist Church out of which a legal advocacy organization has grown and thrived, and has represented undocumented immigrants in matters of exploitation and harm in the workplace.
PROFESSIONAL AND CIVIC AFFILIATIONS
Doug has numerous professional and civic affiliations.
Certified Mediator (general, family, and domestic violence)
Veterans Administration Certified Attorney
Colorado Trial Lawyers Association
Alabama State Bar Member (1992-present)
Birmingham Bar Association
Alabama Trial Lawyers Association
Birmingham Bar Foundation Board (past Board Member)
American Bar Association
Juris Doctor, 1989: Samford University, Cumberland School of Law, Birmingham, Ala.

Bachelor of Arts in Sociology and Criminology, 1985: University of Florida, Gainesville, Fla.
U.S. District Court:

Colorado, Eastern District of Virginia, Northern District of Alabama, and Northern District of Texas