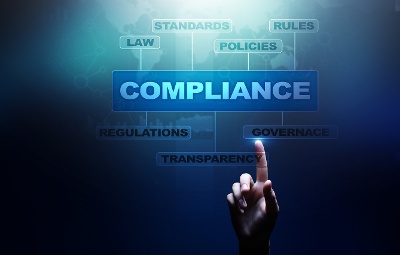 Regulatory Compliance
Businesses are constantly bombarded by a complex and confusing array of overlapping statutory and regulatory mandates. The mandates come from several sources including statutes, regulations issued by the administrative agencies that are tasked with enforcement and courts issuing decisions interpreting the statutes and the regulations. Regulatory mandates may even come from private organizations such as where industry certifications or accreditations are needed.
The complexity is magnified by the fact that regulatory regimes overlap both vertically and horizontally. Vertically, in a given public policy area, regulations may exist at the city, county, state, federal, and international levels. Horizontally, a given aspect of a business or project may be governed by several regulatory regimes.
Hiring employees is a well-known example of this overlapping dimensional complexity. Vertically, employers must comply with various labor statutes and regulations issued by city, county, state, and federal authorities. If the business operates in multiple jurisdictions, then there may be multiple (and conflicting) city, county, and state regulations. Horizontally, hiring employees brushes up against regulations in adjacent policy areas. Since income tax and other taxes must be paid, employers must comply with various taxing regulatory mandates. Immigration laws are also implicated. Health and safety laws and regulations are triggered along with mandates related to workers compensation. Privacy and data security regulations are also in play with respect to the employment relationship. Each area of law has its own set of compliance requirements. Compliance is made even more difficult by the fact that, in any given year, lawmakers, administrators and courts are updating and modifying the regulations and new mandates are being driven by new technologies, changing public sentiments, pressure by advocacy groups and political partisanship.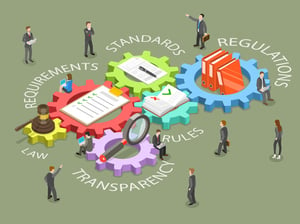 Size does not matter. While many federal regulatory mandates apply only to "big" businesses, local and state regulations often apply to every business regardless of size. Further, the size limitation for the applicability of federal regulations is often only 50 employees. That is not a "big" business; 50 employees is a low threshold.
What is Regulatory Compliance?
Regulatory compliance law is about protecting your business legally and financially by ensuring that your business follows all the mandates. Compliance is also about efficiency and about positioning your business to expand and enter new markets.
Regulatory compliance can be nearly impossible to manage without the legal advice and counsel of experienced regulatory compliance attorneys. There are too many moving pieces and the risks are too high. Whitcomb, Selinsky, PC, has a team of experienced and tested attorneys that can provide legal services with respect to many regulatory policy areas. We have experience working with many regulatory agencies. Our areas of experience include, but are not limited to:
General government procurement and contracting regulations
Procurement compliance for small businesses and for service disabled veteran-owned businesses
ITAR/EAR and export compliance
OSHA and workplace safety compliance
Water rights and quality compliance including hydropower licensing
Renewable and sustainable energy regulations
Environmental compliance including compliance with regulations relating hazardous materials and waste management
Natural resources regulations including wildlife/endangered species mandates
Natural resource extraction industry compliance
Land use and development compliance
Trademark and intellectual property compliance
Whitcomb, Selinsky, PC, has offices in Colorado and Virginia (near Washington) and we routinely assist clients in regulatory matters outside of those states.
Why is Regulatory Compliance Important?
Being out of compliance can subject a business to significant administrative fines and government-ordered closures, potential adverse civil judgments, reputational injuries, and even criminal penalties. In this age of instant news and social media, some forms of regulatory noncompliance, such violating environmental standards, can weaken stock prices, threaten business valuations, and can lead to consumer flight and the attendant loss of revenues and profits.
Government regulations can be a significant cost of doing business, but it is a mistake to think that profits can be enhanced by skimping on compliance. Given the potential costs of failing to be in compliance, staying current with regulatory compliance is ultimately financially cost-efficient.
Compliance can be Value Additive
Moreover, staying current with regulatory compliance can actually be value additive by making a business attractive to new customers, by making a business available to new customers who require regulatory compliance, by reducing some costs such as insurance coverage maintenance and by reducing the barriers to entry into new markets. For example, assume your business is in the oil and natural gas production industry and wants to expand to a new state. If your business is currently in compliance with existing regulations for your existing markets, likely, you may already be in compliance -- or nearly so -- with the regulations in the new market. This is possible because regulatory regimes in any given public policy area are often broadly similar from one jurisdiction to another. Thus, compliance under one regime may mean compliance under similar regimes. In this manner, compliance positions your business to expand.
Furthermore, demonstrated compliance may be necessary for acquiring certain insurance products without which a business may not be able to operate. At minimum, compliance can significantly reduce the cost of acquiring and maintaining these and other products.
Compliance can Reduce the Risks and Stresses Associated With New Regulations
In a similar manner, being in current compliance can reduce financial risks and staffing stresses associated with new regulations and regulatory changes.
Complying with environmental regulations provides a good illustration. For several decades now, environmental impact reports have been routinely required for various land use and other projects. Because of the statutory, administrative and court-imposed rules, most businesses in the industry have put in place the "compliance machinery" for efficiently obtaining the impact reports. The "compliance machinery" includes the established and implemented company policies and procedures, trained compliance staff, experienced compliance legal support, and up-to-date lists of experts, vendors and others to provide the technical support and specific expertise. This compliance machinery makes it relatively easy to comply with new regulations. If a new environmental impact regulation is imposed -- such as a study of the a land-use project's impact on ambient light -- adding a new section to the environmental impact report can be done relatively quickly with minimal costs and without unduly stressing compliance staff.
Data and information security is another good example. Consider contractors for the US Department of Defense ("DoD"). The DoD recently issued detailed regulations with respect to preventing hacking, data loss and exfiltration. Cybersecurity has become a "hot button" legal issue in the last several years. DoD contractors must now obtain a cybersecurity certification as a prerequisite to obtaining and maintaining DoD contracts. The new regulations created a substantial expense for some contractors. However, many contractors were already in compliance -- or nearly in compliance -- because they had already complied with various state and court-mandated cybersecurity regulatory regimes. For those contractors, coming into compliance with the new DoD cybersecurity regime did not result in excessive cost or the need for new staffing. Note that this is also an example where being in compliance makes a business available to a set of customers that have compliance as a requirement for their business partners.
Services Our Regulatory Compliance Attorneys Provide
Our experienced regulatory compliance attorneys provide legal assistance in various ways. For example, to ensure that clients are in compliance, we delineate and detail what the regulations mandate based on our extensive knowledge of statutes, regulations and case law. Just as importantly, we provide advice and counsel on how businesses can comply. Sometimes the statute or regulation provides a template that must be used. An example might be the content of an anti-discrimination training program. Other times, specific guidance on how to comply is provided by a court decision. Our regulatory compliance attorneys can puzzle out what a court decision means at a practical level.
Our attorneys also help with the following:
Providing specific guidance where regulations are in conflict
Representing and advocating in state and federal courts, before administrative agencies, arbitrations and in other forums
Private-party civil litigation
Defense of governmental enforcement actions
Representing and advocating at the appellate level
Leading negotiations and mediations with stakeholders such members of the public, resource users, public agencies at various levels, politicians, advocacy groups, utilities, manufacturers, landowners, and developers
Assisting with news and public relations leading up to regulatory authorization or following an adverse event
Assisting with investigations and inspections
Preparing compliance documentation including mandated reporting, adverse event notices, and compiling reports and data for compliance audits
Providing procedural assistance
Aiding with regulatory training and creating a culture of regulatory compliance
Monitoring trends for future impacts on compliance mandates including monitoring pending legislation, legislation in other jurisdictions and countries, proposed administrative changes to regulations, industry evolutions and trends, new technologies and methods, what advocacy groups are promoting, and what politicians are saying
Helping create proactive, future-looking strategies aimed at streamlining future compliance
And more
Contact an Experienced Regulatory Compliance Attorney in Colorado and Virginia
If you need assistance with any sort of regulatory compliance issue, our aggressive and experienced attorneys can help. Whitcomb, Selinsky, PC has years of experience representing a wide variety of clients in regulatory matters including individuals, landowners, not-for-profit organizations, service veterans, small businesses, large multi-state and multinational corporations, mining and drilling operations, land developers and manufacturers. We have teams that can provide the experience, advice and guidance that you need. Contact us today by calling (866) 476-4558 (toll-free) or (303) 534-1958 or through our online contact page. We have offices in Denver, Colorado and in Herndon, Virginia.