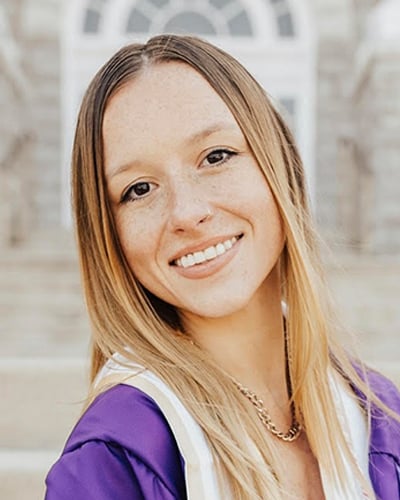 SHEA KING
Paralegal - Virginia


Shea experienced firsthand how attorneys make a difference in a person's life and found it inspiring. Immediately she knew she wanted to dedicate her future career to the legal profession and provide others with the same level of care she received from the attorneys who helped her and her family. Never backing down from a challenge, Shea began pursuing her passion for the law at 16 when she started college, where she created and drafted research based on international law and presented it to be published.

At Whitcomb Selinsky, PC, Shea aids in cases involving civil litigation, personal injury, medical malpractice, and wrongful death and offers administrative duties in our Virginia office. Shea believes the law is a common and shared concept between everyone in society, regardless of their differences. Therefore, when societal injustices occur and can be rectified by the law, she believes it is worth pursuing those cases and advocating for others to make a difference in their lives and society. By helping people through their legal journey, Shea knows she is making a positive impact.
EXPERIENCE
Shea is a recent graduate from James Madison University, where she concentrated on foreign security and conflict and pre-law. During this time, she volunteered and continues to volunteer at numerous charities and organizations. She was a mid-level French translator volunteer for the World Church Services. She taught beginning English to refugees and helped them with their basic needs to accommodate their challenges living in a different country. Also, she volunteered for the Court Appointed Special Advocate (CASA), annually presenting at fundraisers to educate and connect audiences with CASA's cause. Finally, Shea provided volunteer services with Behavioral Health Works, Inc., where she annually delivers food to the homeless communities in the Maryland/D.C. area, including on holidays such as Thanksgiving and Christmas. Shea was also an active leader at James Madison University. She was a Political Science Department Career Peer Advisor (CPA), a summer tour guide for new students and their families, and a Panhellenic recruitment guide.
SPEAKING ENGAGEMENTS
Shea spoke at James Madison University's annual MADRush Undergraduate Conference on her research on Maritime Piracy as an International Law Violation.
Bachelor of Arts in International Affairs with a minor in French Language, 2022: James Madison University, Harrisonburg, Va.
Professional Studies Program in Paralegal Studies, 2021: James Madison University, Harrisonburg, Va.
Volunteered for Court Appointed Special Advocates as a fundraising/presentation volunteer to raise awareness for the cause

Volunteered as a French translator for refugees in the Harrisonburg community

Kappa Alpha Theta