In 2019, the Colorado Legislature passed a law titled the Equal Pay for Equal Work Act (C.R.S. § 8-5-101 et seq) hoping to curb pay disparities based on sex and to rework the way sex discrimination in the workplace is reported and resolved. In January 2021, Part II of the Act went into effect which requires employers to include compensation in job postings, notify employees of promotional opportunities, and keep job descriptions and wage rate records. The Act seemly creates a more transparent workplace in terms of equal pay for potential hires and employees alike. The Act has not gotten the same warm reception from employers that find the requirements burdensome and opens the employer up to suit for failure to comply with the law. Several employer groups have launched legal challenges against the Act.
Now, in an economy where remote work is an often-desired position, several corporations are citing to the Equal Pay for Equal Work Act and its new requirements as the reason they are choosing to exclude Coloradans from new job openings. Several large corporations including a few with physical offices in Colorado have posted new job openings using language like "this role cannot be performed in Colorado" and "the position may not be performed remotely in Colorado". Some companies are even requiring the applicant to relocate from Colorado to another state should the applicant be successful. While some corporations have taken a hardline prohibition of Colorado workers for remote positions, some corporations have made separate job postings for Colorado workers that list the compensation range and benefits offered. Other corporations have limited their openings to Coloradans until the corporation is able to better comply with the requirements of the Equal Pay for Equal Work Act.
Some corporations have since updated their job postings to better comply with the Equal Pay for Equal Work Act's new requirements while others would rather exclude eligible job candidates from an entire state instead of complying with the law.
Examples of Coloradans Excluded from Remote work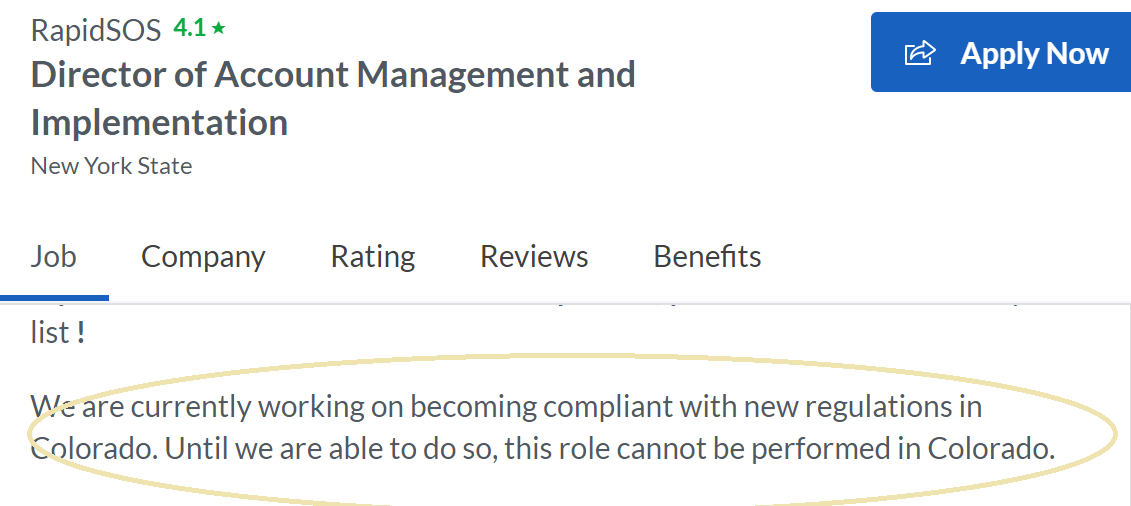 RapidSOS Job Posting Excluding Colorado
This job posting from RapidSOS for Director of Account Management and Implementation, posted over a month ago on Google's job site posted with the language "We are currently working on becoming compliant with new regulations in Colorado. Until we are able to do so, this role cannot be performed in Colorado."
These next two job postings from the company Drizly, an alcohol delivery company for a marketing position in Denver, CO, and for a remote marketing position. One posting places a limitation on working remotely from Colorado while the other specifically lists a "Colorado Salary Range."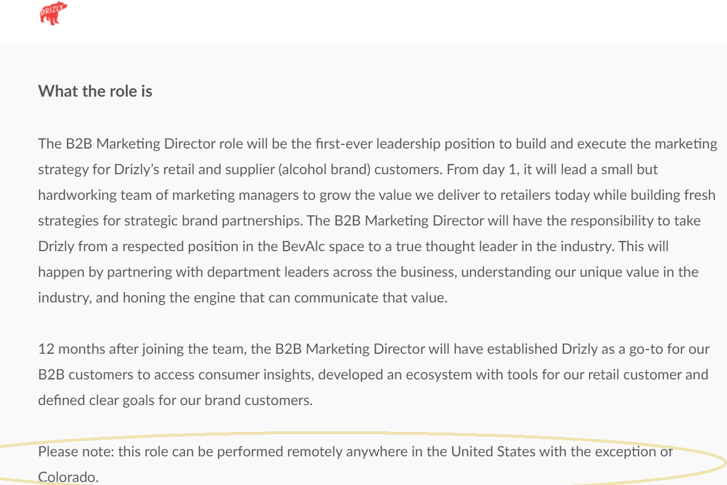 Remote Job Posting, Excluding Colorado for Drizly

Job Posting for Denver, CO at Drizly
This job, posted by Stride K12 for a part-time high school teacher and excludes Colorado applicants. It states "This is a home-based position. This position is open to residents of and may be performed remotely from Washington D.C. and from any state except Colorado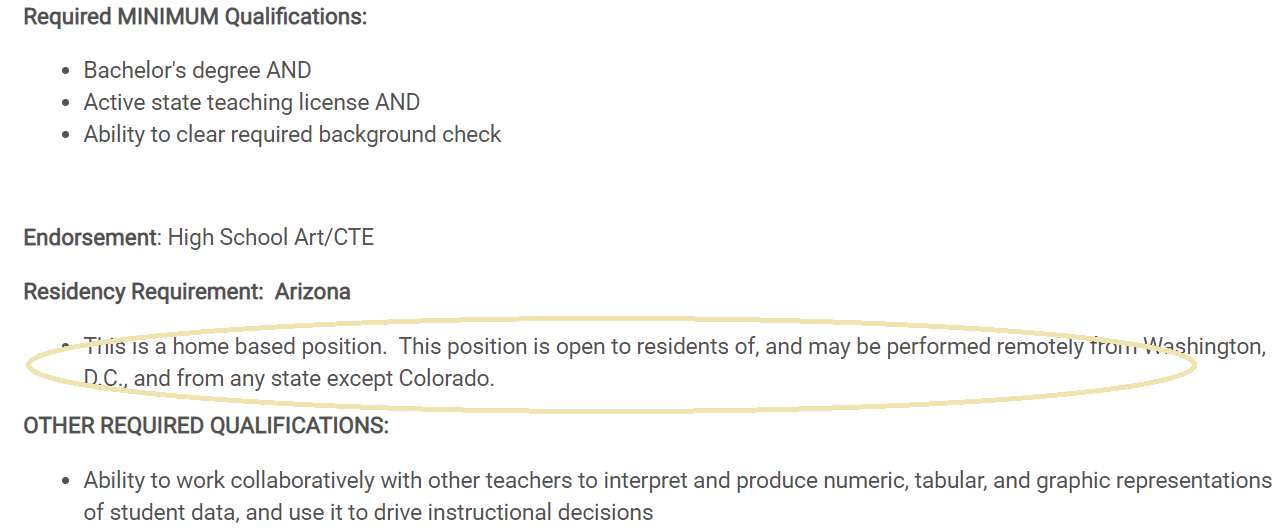 Stride K12 Posting Excluding Coloradans
This job posting for an Inside Sales Representative for Unite Us again excludes Colorado applicants. It states, "This position is remote anywhere in the U.S. excluding Colorado
.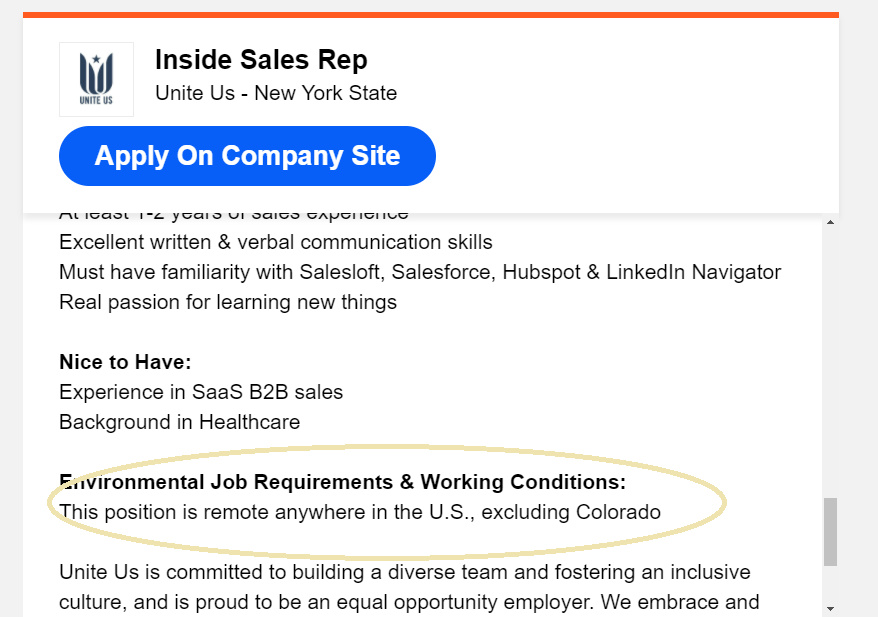 Unite Us Posting Disallowing Coloradans
This posting from Oracle, a corporation with physical offices in Colorado, tells potential Colorado applicants for the Technical Account Representative to email for the salary and benefits information. It states, "If you are a Colorado resident, Please Contact us or email us at oracle-salary-inquires_us@oracle.com to receive compensation and benefits information for this role." This type of language does not comply with the requirements of the Equal Pay for Equal Work Act.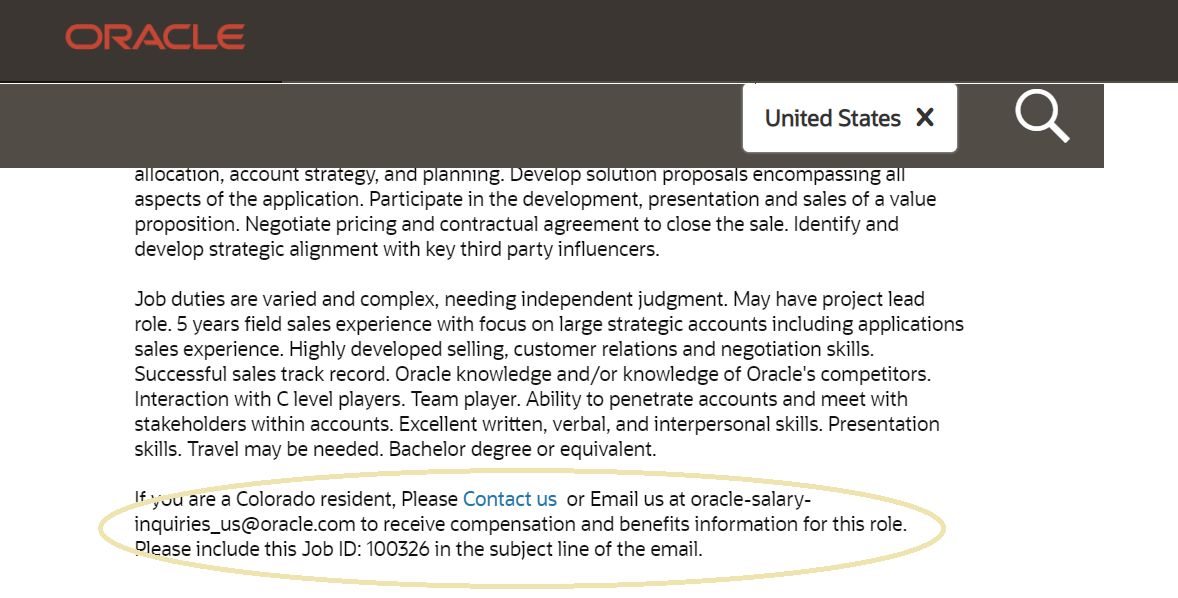 Email for Salary Information
If you have any questions about employment law, don't hesitate to call us. We have an experienced team ready to help now.