18 min read
David v. Goliath Webinar Series Part 1
Joe Whitcomb : Aug 5, 2020 4:30:00 PM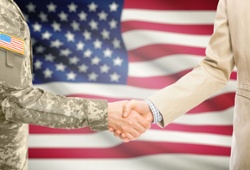 David versus goliath Part 1
Starting Before the Solicitation and Using the Q&A
David versus goliath Part 1
Starting Before the Solicitation and Using the Q&A
I wanted to thank everyone who showed up for our webinar. The broadcast of our webinar is above and a transcript of the webinar will follow. ~Joe Whitcomb
Joseph Whitcomb:
All right. We're waiting for a few more folks to file in. It's 11:01. My name is Joe Whitcomb. I want to say good morning to everybody on Mountain and Pacific time. Good afternoon, everybody on the Central and East Coast. My name is Joe Whitcomb and joining me today is Joel Hamner and Dani Tarolli. Dani will be moderating today.

Joseph Whitcomb:
First, I want to thank everyone who is taking the time out of your busy schedules to show up today for this webinar. We hope it will be informational and useful to everyone who's joining us. Again, my name is Joe Whitcomb. I founded a law firm in 2012, and our firm's been helping small businesses, specifically in the socioeconomic space, since 2013, relevant to the universe of government contracting.

Joseph Whitcomb:
Our primary focus since 2013 has been on SDVOSBs, obviously, and in their efforts in winning, maintaining, and collecting on government contracts in which they're performing. Because of that work we've had a lot of conversations with existing and prospective clients whose problems, in our view of the world, could have been meaningfully reduced or curtailed if they had taken action earlier in the procurement process. So that is why we are focused today on the early part of the procurement process. Why today's meeting is about starting before the procurement process and taking advantage of the Q&A process.

Joseph Whitcomb:
We're going to break this webinar down into two sections. The first 20 minutes is going to be just a facilitated conversation between Dani, Joel, and myself. I'm going over a list of questions that we've prepared in this patient of this webinar. And then the last 10 minutes of the 30 minutes will be dedicated to answering your questions that you guys have as they may give way. And again, you'll see some chats pop up, instructing you on maybe using the chat bar, of course, using the Q&A as a way to get questions over.

Joseph Whitcomb:
But understand that we will be focused on those questions in the last 10 minutes. We hope we address enough in the first 20 that you won't have a lot of questions, but if you do, please feel free to use it those last 10 minutes. And then again, any questions that we're not able to answer in this 30 minute segment that we got over, that we feel like we can put together, we'll put together a response, sent you over a personalized video for you guys to be able to review. And of course we're always available through email if you have questions. And with that in mind, I'm going to turn it over to Dani, short for Daniela, to start with our questions.

Dani Tarolli:
So I guess to start things off, you guys suggest that we start the RFPs before the process. So why don't you explain exactly what you mean by that?

Joseph Whitcomb:
Sure. Joel, you want to take that question?

Joel Hamner:
Yeah. So I'll kick it off here. And this is the first in a series of five webinars where we kind of talked about the disproportionate power right now and sometimes that it seems to exist between contractors and the federal government, particularly small businesses. And so starting before the RFP even comes out is vital to preparation, right, when you are in this David and Goliath type interaction. And so what we mean about starting before the RFP is really just actively tracking and appropriately responding to RFIs and sources sought when those documents and other related information comes out.

Joseph Whitcomb:
One of the things that Joel and I were talking about before is what kind of things are you as contractors going to be looking for in those documents, right? The first thing you'll learn obviously is what is the government trying to purchase by way of goods or services? The second maybe equally important thing you'll learn is how does the government plan to procure this? In other words, is it going to use a blanket purchase agreement? Is it going to use a negotiated procurement? If it comes out on EBI, that's a good indication that they're going to be using federal supply schedules, or what you may refer to as the GSA schedule.

Joseph Whitcomb:
And it's important for you to know as a contractor, is this probably going to be split between five or 10 contractors in the sense of an IDIQ or a MATOC or is this going to be a single award to a single awardee. And one of the things you can do in looking at those early documents, is just determine whether or not this is a good fit for your company, you have the bandwidth to perform. Because as Joel hinted at, as we get further on in our seminars, we'll talk about the consequences of maybe getting awarded a contract for what you're maybe not 100% prepared for. So those sources sought and those RFIs can help you with that. And then lastly, for this audience, you want to be looking to see whether or not it's set aside for socioeconomic. Is it SDVOSB, is it a small business set aside, or is this open compete?

Joel Hamner:
Yeah, Joe, I'll just jump on that and say, additionally, responding to RFIs or sources sought, when they come out is also vitally important in a set aside context. Oftentimes that is a critical component. Sometimes even the only component of market research that a contracting officer may do. And so by responding to actively monitoring, tracking, and then responding to those types of documents, RFI, sources sought, that is what will maybe not necessarily ensure, but certainly tip the scales in favor of this particular procurement effort being set aside for something that you may qualify for.

Joseph Whitcomb:
Absolutely.

Dani Tarolli:
My question after that would have to be, if a contractor doesn't respond to an RFI or sources sought, can that contractor still submit a bid?

Joel Hamner:
Absolutely.

Joseph Whitcomb:
Yep. But piggybacking off what Joel was saying is if you, as a service disabled veteran owned small business or veteran owned small business, or even a small business, don't respond to that RFI or sources sought, then that may deprive you of the ability to later complain, as Joel and I will get into in this seminar, to be able to later complain about the fact that the contract was not set aside. A lot of our clients do business particularly with the Veterans Administration. I try to encourage every client, prospective client that's SDVOSB or VOSB make sure you're responding to those RFIs or sources sought, because otherwise the contracting officer may, not always, but may use the lack of responses as an excuse to not set aside that contract in the future. But to Dani's question you can absolutely and should respond. That's actually key to making sure that your rights further in the procurement process are preserved. If you don't submit a bid, then your opportunity to complain later will of course evaporate.

Joel Hamner:
Absolutely.

Dani Tarolli:
So would that being said, what do you think that the most important part of solicitation is that contractor should be reading?

Joseph Whitcomb:
Well, Joel, you came up with this question, so I'm going to let you run.

Joel Hamner:
So I'll jump on that. So that certainly is a loaded question. What's the most important part of the solicitation? So now we have moved beyond that pre-RFP stage and we have actually seen the solicitation. What we see oftentimes is that contractors will tend to just go right straight to the SOW, right? The statement of work or the performance work statement, however, it is styled in that particular solicitation, and bypass a whole host of other issues that are extremely relevant for how to prepare a properly responsive proposal.

Joel Hamner:
If I were to pick one key aspect, I would say, you must be aware and have intimate knowledge of the source selection criteria, right, and the evaluation methodology. That is going to inform you exactly how you're going to style your proposal. It's going to inform you what information needs to be included and what doesn't need to be included. Sometimes we run into issues where we're contractors maybe have included information that might not necessarily be necessary, but then ultimately the contracting officer uses that over abundance of information, right, to find a reason to exclude that contractor from consideration of the award.

Joel Hamner:
But of course, I mean, there are a host of other points along the way that, of course, we need to be mindful of. Everything from understanding what's the contract type, what's the period of performance, what's the set aside criteria, which we've mentioned previously. And certainly perusing, right, the long list of FAR or other agency clauses, really looking to see whether there are any clauses that might not necessarily be applicable, that might should be removed from that. Whether there are any other conflicting provisions that might exist there too.

Joseph Whitcomb:
Yeah, I would just piggyback on Joel's response and say also be on the lookout as the technical experts in your field for the things that just don't make a lot of sense, right, or which are completely unclear. If you're a construction contractor and the request for bids, in this example, doesn't include things that you as a performer would just know they are necessary, right? That is absolutely goes into our next point, which is how to leverage that Q&A period.

Joseph Whitcomb:
So looking for those ambiguities, looking for things that just don't make sense to you as a technical expert, and then enumerating it, putting a list together of things that you need clarification on in order for you to be able to best prepare. Because where you don't want to be as just feeling your way around in the dark, putting together a proposal, and for reasons we'll discuss today and in future webinars, and then waiting until the award to complain that, oh, well, I didn't understand the request for proposals or the request for bids, or what have you, or the request for quotes. So that's super important. As Joel said, how is this thing being competed? Is it under FAR part 15? Are discussions available? Am I going to get a debriefing? Is the government ask-

Joel Hamner:
Is it DOD acquisition?

Joseph Whitcomb:
That's right. Exactly. What agency? And it may be most importantly, ladies and gentlemen, when are my submissions due? Because if it turns out you open this RFP, and you have a huge effort and response... You'll see this happen a lot in late August and early September. The responses are due in a week. Well, the first alarm bell that should go off is, well, that's completely unreasonable. There's no way that they can expect us to respond to that. That might be the time to either reach out to the contracting officer, or send them an email and say, "Hey, this should at least be a 30 day response." So those are the things that I would suggest a compliment what Joel was saying.

Dani Tarolli:
So of course this all can be very overwhelming. And the question and answer phase can alleviate some of those concerns. Now is the contracting staff required to provide question and answer period during every solicitation?

Joseph Whitcomb:
I'll take that. So the response to that is sure, right? If they put out something that's unclear, and you submit questions and they don't respond, then the only choice or leading you with is to rush in with a pre-award bid protest, and complain about patent ambiguities or defective solicitation protestors, or sometimes style. So the answer is if they don't respond to your Q&A, then they've ultimately forced your hand and forced you to litigate as it relates to the lack of clarity.

Joseph Whitcomb:
Now will the government sometimes respond with answers that are not terribly helpful, like see paragraph 10.13 in the solicitation? Absolutely. And you should still be prepared to escalate, but understand that your deadline for complaining about those unclear clauses or those unclear evaluation criteria is the date and time of when responses are due. So if your responses are due noon on August 30th, then that's the latest you have to clear up any of those ambiguities, or to file a protest and force the government's hand.

Dani Tarolli:
Yeah. So do you have any suggestions on helpful questions you would suggest to pose?

Joseph Whitcomb:
You want to take that, Joel?

Joel Hamner:
So yeah, I'll jump on that. The first that you've referenced at length here, Joe, is to clarify ambiguities. As you talked about that, I remember a recent issue that we had where we saw a solicitation that listed the evaluation criteria would employ both an LPTA and a best value determination, right? Which just is nonsensical under the FAR and under the provisions of the FAR. And so certainly clarifying whether that be technical ambiguities or contractual ambiguities.

Joel Hamner:
Another thing that we've mentioned already today is seeking to have removed inapplicable terms. Inapplicable FAR part 52 flow down clauses that may not apply is also that's a prime opportunity to raise that in a Q&A, right? You say, look, I see that this clause was flowed down. You have, for example, set aside the procurement as this type of a set aside. This particular clause may not apply.

Joel Hamner:
And normally then, I mean, it depends on the contracting officer, the type of response that you'll get, but you will get some type of response, either that's inapplicable or, sure, we'll remove. Occasionally you'll run into an issue where the contracting officer is somewhat recalcitrant and dug in. And it says what it says. It is what it is.

Joel Hamner:
I think one of the biggest things though, and one of the most important things you can do with a Q&A comes back to the theme of this David versus Goliath dynamic that sometimes occurs particularly again with small businesses seeking the contract with the federal government. And that is that your Q&A is a chance to certainly clarify issues. But it's also an opportunity to pin the government down, pin the contracting officer down in how they are going to either execute the contract or follow through on making their award decision.

Joel Hamner:
We recently had another instance in which a contractor reached out to us and said, "Hey, I see a couple of these terms. They're unique. Haven't seen them in a procurement like this before, and they caused me concern. I have some concerns about that. What can we do in the Q&A process to approach those?" And so what we did is that we developed a few questions that said, hey, I see term X says this, right? Far provision Y requires that. How do you, government, intend to meet the requirements of the FAR provision when you do this?

Joel Hamner:
And what that ultimately is going to do is that the government is going to ultimately articulate their process and say, "Well, we intend to do these things to ensure that the regulations are met." And now they have essentially committed themselves to that. And if they fail to follow through on that, then you will always be able to point back to that question. Those questions become part of the solicitation. They're incorporated into that solicitation.

Joseph Whitcomb:
Here's one thing I want to add to what Joel was saying. In that same vein, when you're looking at these FAR provisions, look for any sort of, again, it's the technical experts, look for a major departure on how the government is purchasing a good or service. We've seen recent examples, and the term of art that we lawyers like to throw around without thinking about our audience is bundling, as an example, or consolidating, which is covered under FAR part seven.

Joseph Whitcomb:
So recent example was the Social Security Administration taking what was previously 1,000 individual contracts covered under a BPA and consolidating them. And that was all over the country. I understanding there's 170 hearing offices and 1,700 judges. And they consolidated those contracts into five contracts across the country. The government's allowed to do that. But there's also a process the government has to go through to ensure that that kind of bundling or consolidating, does it negatively impact small businesses, or SDVOSBs.

Joseph Whitcomb:
So look for something that's very different. Look for, assume, construction contract, where the government attempted to award a MATOC to the entire East Coast for a furniture contract that they were going to distribute across the entire country into five regions. And that might, by its very definition, might make it super, super difficult for a small business that is operating under the size standards of the SBA, right, to be able to perform. I mean, if you're a $11 million company or a $37 million general contractor, it may not be realistic for you to be able to compete on that contract. And it may be important for you to go in and press the government and say, "Hey, did you do a procurement plan? Did you get the SBAs input on how this is going to hurt or impact small businesses?" And if the answer to that question is no, then that might throw open the doors for, again, for litigating, or forcing the government's hand on that front.

Dani Tarolli:
So with that being said, the question and answer phase can ensure a certain performance out of the government. Can the question and answer phase also hurt you? For example, if you file a legal action, is there a risk of losing the contract?

Joseph Whitcomb:
I'll take that one. So the legal answer to that question is absolutely not. That's retaliation. They're not allowed to do that. That's a different answer from what may play out in reality. But know that if the contracting officer or the contracting staff does that, they are acting illegally. And they could even go so far as to basically limit... All these contracting officers work with a certain level of immunity as it relates to private actions against them. If they go so far afield and start retaliating against you individually, they may crossover into a universe of what we lawyers refer to as bad faith. And if they'd cross over into that universe, that can change the game completely. So again, the legal answer is no, they're not supposed to be able to do that. And no they shouldn't. And if they do, they will create legal recourse for you.

Joseph Whitcomb:
And again, I think the other piece of it is, is just using the Q&A, being as politically forthcoming and upfront, as you can be. Not being combative, asking questions that you need answers to. And then you have all of those documents that you can present to the GAO or the court of federal claims, or whatever route you decide to go, and say, "Look, these are all the opportunities we gave the government to answer these questions. They dug in their heels." And then let them answer it to the GAO or the court of federal claims judge for not responding.

Joel Hamner:
Joe, there's a question here to kind of repeat that question about the legal action. And so I want to pick up on a couple of things you said, but I'll simply say the question was, do you as a contractor open yourself up to any potential adverse consequences, right? If you take a hard line on a Q&A or potentially even file a bid protest or otherwise litigate a claim. And so certainly, yeah, to your point Joe, no, the government is precluded by law from holding that against you, right? That obviously is your legal right to be able to take any of those.

Joel Hamner:
That said, of course, right, there are pragmatic considerations. When we, again, kind of hearkening back to this most recent example that we dealt with, where we developed some specific questions that seemed to get at what we thought were likely difficult terms, right, for the government to be able to support, and potentially at odds with certain FAR provisions. Really, it's just taking a matter of fact approach, right? And laying before the government to say the regulations say X, your term says Y. And then just ask the question how do you reconcile these two? How do you intend to follow through on ensuring that X is followed? You can do that in a political way, right, and in a good way. Because of course they still are your government customer. But fortunately in the world of government contracting, you're right, they are precluded, Joe, from holding that against you.

Joseph Whitcomb:
So again, maybe this will be the last word on this, whatever danger you may encounter from using the Q&A, and even using the litigation is far outweighed by the risk you take in being silent. Because if you are silent, especially when the law is super clear, if you're silent about a super ambiguous clause in the contract, it's just completely unclear, and you don't complain about it before the solicitation responses are due, then the government will be the first ones to tell you in your bid protest when you don't win, hey, you should have brought that up before the award. So they will certainly use your silence against you as readily as they might illegally use your questions against you, if that makes sense. So whatever, again, I just don't know how to put it more plainly than whatever risk you run from being overly verbose, you've got a bigger risk from being too silent.

Joseph Whitcomb:
And I see now that we're at 11:24. We want to be respectful of everybody's time. We have two questions that have shown up in our Q&A. I don't know if there's any others on the chat, but I want to take the first question, which talks about the limitations on subcontracting. And the question is how do you bring this up with contracting? And when you know that the incumbent has hired all subcontractors, no W-2 employees.

Joseph Whitcomb:
So that's a question that we could probably spend a whole 20 minutes. And our team in this firm has litigated this issue on the limitations on subcontracting a lot, a great deal. So the way the courts come down on that is that the limitations in subcontracting is an issue of contract administration. It is up to the contracting officer to make sure that the limitations in subcontracting are followed. Meaning that if it's an SDVOSB set aside, as an example, that the prime contractor, you, those are within the sound of my voice, do not subcontract more than 50% of that contract value out to other than similarly situated other SDVOSBs to put it simply.

Joseph Whitcomb:
So if you're going to submit, if you're going to subcontract to a small business or a large contractor that's not an SDVOSB, then your ceiling is that 50% mark of that contract value. If it's a million dollar contract, don't subcontract more than 500,000. There's a little bit of nuance math in there. You can remove your cost in a construction contract. Obviously in a construction contract, the math is different because it's 15%, maybe five, but in a services contract, you can't subcontract more than 50%, or manufacturing contractor, other than similarly situated.

Joseph Whitcomb:
Now I think the question is, what do you do when you find out that the incumbent has been violating that, or that the awardee has been violating. Well, then you get into the universe of protesting at the SBA about sensible subcontracting, and whether they're complying with the limitations of subcontracting. You can use responsibility determinations to complain. And ultimately, if you really want to opt for the nuclear option, if you're really convinced that the awardee is not complying with the law and has represented to the government that they are, then you have a qui tam action or a False Claims Act action after the award.

Joseph Whitcomb:
And we will unpack that issue in later webinars because that's a big deal. If you bring a qui tam action against another contractor and stating that, "Hey, they were awarded under a set aside. They haven't complied with limitations of subcontracting," the penalties around one around 13 CFR, 125.6, which is what governs that limitations in subcontracting, are huge. The minimum penalty is a half a million dollars. That's enormous. And that's statutory, which means the judges don't even have any discretion as to whether or not they levy that penalty. And usually that involves the DOJ. And it is. So it is not anything to be taken lightly.

Joseph Whitcomb:
And so if you're the contractor, and you're like, well, I'm competing against people who are not playing by the rules. So unfortunately your recourse is that, if they're awarded and they're not complying, then you could ultimately bring a qui tam or post claim. Now they essentially have six months of that first year contract performance to get into compliance, right? Because the measure of whether they're satisfying that limitations in subcontracting is that full base year. So they could theoretically subcontract out 100% of the contract. And then on day 179, pick up full performance and carry it out for the rest of the year, and they'd be compliant. But to Todd's question, you can alert the contracting officer. Then your job is, ultimately if the contracting officer just sort of winks at the error, then your job is really just go to the DOJ and bring it up there.

Joel Hamner:
Right. One thing Joe, that you mentioned is, obviously, you mentioned stiff penalties related to that. And I would just underscore, and it's because it gets to the heart of how these set asides work, you mentioned in passing the ostensible subcontractor rule. That's basically a rule which states, in regulation, that if a subcontractor performs a majority are vital components of a given subcontract, that subcontractor will be treated as an affiliate of the prime contractor. And so if you have a dissimilarly situated subcontractor who's performing all the work, right, or at least all the vital parts of that particular contract, that raises serious issues with respect to how these set asides are actually functioning.

Joseph Whitcomb:
All right, I got a question from Kevin about are there any books or guides that we'd recommend for someone who's just starting out in the government contracting universe? So this is a shameless self-plug in that this firm has written about 350 to 400 blog posts on our website, specifically related to the universe of government contracting. That's probably an easy place to start. We've also put together, there's some videos out on our website, on our resources page that'll help with that.

Joseph Whitcomb:
But also, there are other attorneys. Steve Koprince up in Kansas has written some good books on government contracting for small businesses. The SBA, by the way, is an excellent and free resource, especially if you are service disabled, or I'll just say, SDVOSB for short, make an appointment. Any new contractors, make an appointment with your local SBA office to get in and use all of their free resources.

Joseph Whitcomb:
Also, every state will have a PTAC, P-T-A-C, that's another free resource. It's partially funded by the Department of Defense that will help you. And again, they won't charge you a dime. We participate in PTAC. We do free webinars for that group to help them. And they exist in virtually every state in the union. And will help you with those resources. And there's print literature and online literature on all of those places.

Joseph Whitcomb:
We are now officially out of time. It's 11:31. Now we're not, an the self-imposed deadline of 11:30, but we wanted to be fair to everyone who's joined us. What we're going to do is we're going to take all of these unanswered questions that exist in both the chat and the Q&A, and what we're going to do is, Joel and I, we'll put together short videos to try to address those questions, get those out to you via email. We've got some nifty little tools that make it easy so you don't have to download big videos. You'll be able to see them in your Chrome or whatever browser you're using. And so, that's how we'll address the rest of those questions.

Joseph Whitcomb:
Understand, as Joel started off, this is the first of five of these webinars we'll be doing on a monthly basis. And again, there are a myriad of ways to reach this law firm through our website, that you can submit your questions and forms online. And you can even create an appointment with me for 15 minutes at your leisure for any other questions you may have, if the videos we send out don't the job. We want to thank everybody who has joined us today. We greatly appreciate the time you've taken out of your busy lives. We want to be respectful of that. And so, again, we know there're outstanding questions. We will address those. And with that, we bid you all adieu. And thank you very much. Yeah.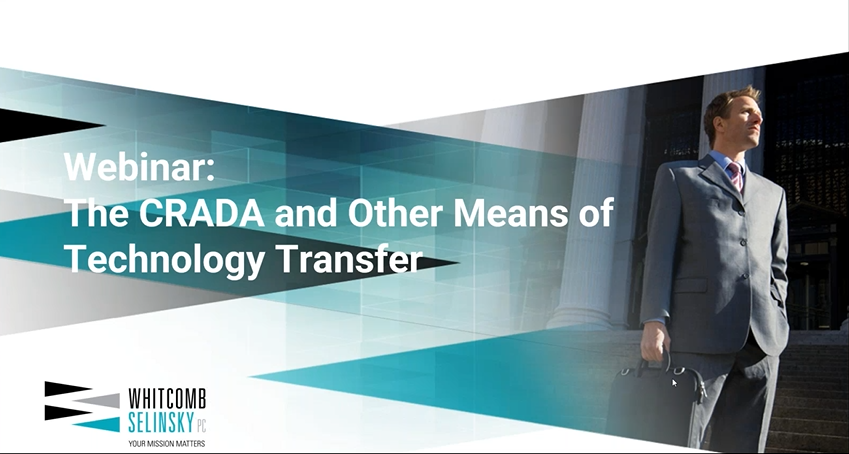 Whitcomb, Selinsky, PC Staff:

Feb 8, 2023 1:56:00 PM
Cooperative Research and Development Agreement (CRADA) and Other Means of Technology Transfer
Read More