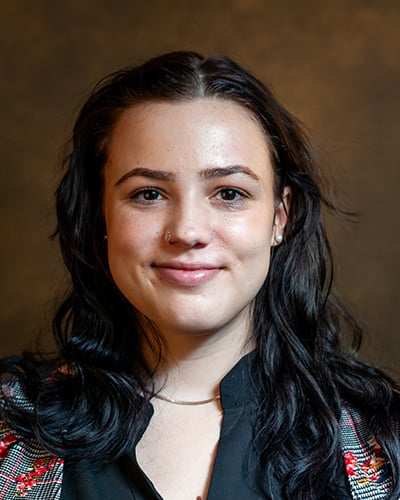 EMILY KELLEY
PARALEGAL
Emily's interest with the legal profession began in high school. During this time, politics were a constant part of conversations and discussions. Emily watched women in the political arena, such as Ruth Bader Ginsberg, Nancy Pelosi, and Alexandria Ocasio-Cortez, using their voice to impact not only the political climate but also the world. Through watching these women, Emily knew she wanted to use her own voice and power to influence the world and help make a difference.
Harnessing this passion, Emily studied Legal Studies at an American Bar Association Accredited University. Through this experience, Emily became even more passionate about the law, enjoying the challenge each case presents and her role in helping clients. As a paralegal, Emily is instrumental in ensuring clients understand the legal process and how it pertains to their specific case. This helps clients feel empowered and able to be more involved in their case. Emily is available to answer any questions or concerns clients may have regarding their case, becoming a true and trusted partner.
Emily's legal experience is diverse. Through her internship, she has experience in family law, landlord/tenant law, and small claims. Additionally, she has experience with immigration law, Social Security, GovCon and personal injury. Although Emily is not fluent in Spanish, she is able to converse with Spanish-speaking clients with ease. She continues to practice and learn Spanish so she is able to better assist Native Spanish speakers.
EXPERIENCE
From January 2020 to March 2021, Emily volunteered at the Legal Assistance Center (LAC) in Grand Rapids, Michigan, assisting people who couldn't afford legal representation. The center focused on helping low-income families with family law, small claims, and landlord/tenant law. Emily was responsible for gathering the client's information and discussing their legal options. Once the client, with the assistance of Emily, selected the most appropriate legal action, Emily supplied them with the necessary forms and guided them though that form's process. In a typical day, Emily and her fellow peers assisted 70 people. At LAC, Emily used her Spanish skills to help her clients fill out and submit the correct forms. Emily will continue to assist those who cannot afford legal representation when she begins volunteering at Mi Casa located in Denver, Colorado.
During her Freshman and Sophomore years in college, Emily competed nationally at CUPSI, College Unions Poetry Slam Invitational. In her free time, Emily enjoys hanging out with her cat Sebastian.
Bachelor of Arts in Legal Studies and Double Minor in Writing and Philosophy, 2021:

Grand Valley State University, Allendale, Mich.
Legal Assistance Center (LAC)- Grand Rapids, Mich., 2020-2021